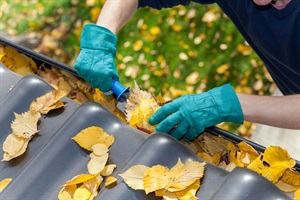 Hurricane season in North Carolina is nothing to be trifled with. Wilmington, NC especially has seen plenty of devastating storms, most recently Hurricane Florence, that have done millions of dollars in damages to countless homes and businesses. While there's no way to stop all damages that occur during storms, preventative maintenance can go a long way.
Gutter maintenance may seem trivial until you consider that your gutters are one of the best ways to direct rain away from your home. In fact, taking care of your gutters is one of the best ways North Carolina homeowners can prepare for hurricanes and prevent hurricane-related flooding on their properties.
If there's a hurricane on the way, don't delay. Get your ladder out and take the following steps to ensure your gutters are ready for hurricane season.
1. Clean Your Gutters
Step one is a good cleaning. For your gutters to do their job during torrential hurricane rains, they need to be clean. Grab a pair of gloves and a bucket or trash bag and get to work! Pull out any leaves, sticks, and other debris that may have built up in your gutters over time.
You can also use a leaf blower to unclog your gutters. While you're at it, go ahead and blow all the leaves off your roof so they don't get washed into your gutter when the rain starts.
2. Make Sure Gutters are Securely Attached
Over time, winds and debris can cause gutters to come a little loose and, trust us, during a hurricane is not the time to find out you have a loose gutter.
While you're working on cleaning out your gutters, go ahead and give them a little jiggle. If they feel wobbly or loose, you may want to contact a handyman to get them fixed up before the storm arrives. If you don't have enough time to hire a repairman to fix them, there are several
DIY solutions for saggy gutters
that you can probably handle on your own.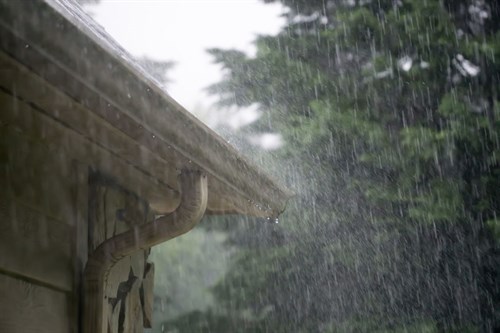 3. Don't Forget Your Downspouts
Downspouts are part of gutters, too! In fact, they're one of the most crucial components of your gutter system, as they're responsible for directing water in the proper direction. Don't neglect them!
Before a hurricane, check to make sure your downspouts are securely fastened, unclogged, and pointed away from the house and toward wherever water will drain best. A well-positioned downspout keeps water away from your foundation and reduces the chances of flooding in your home. You may even consider purchasing some downspout extenders so that you can control the flow of drainage even more accurately.
4. Clear and Clean Up All Leaves
No matter how clean your gutters are or how well your downspouts channel water, a yard full of leaves won't drain properly. While clearing leaves from your gutters and roof, don't just throw them in your yard. Instead, properly dispose of them in a garbage bag or compost container. It's also a good idea to rake your yard and clean up those leaves as well.
Whatever you do, be a good neighbor and make sure to dispose of vegetative debris properly. Leaves left on the ground during a hurricane will quickly wash into storm drains, resulting in a flooded street for you and your neighbors.
5. Do a Test Run
After everything's clean and secure, and if you can do so safely, it's always a good idea to do a test run. This typically involves climbing up on the roof with a garden hose and running water down the roof to see how it behaves. If there are any clogs or leaks you missed, they will surely show up during this test.
Ideally, you'd take these precautionary steps, not just before a hurricane comes, but after as well. Each storm can bring with it debris and high winds that can damage your gutters. Checking for these issues immediately following a hurricane will help you be that much more prepared for the next one.
Finally, it can't hurt to check your roof for leaks before and after a hurricane comes. Do a thorough inspection on the inside and outside of your roof, to look for cracks, leaks, and loose or missing shingles. If you notice any of these problems, it may be one of the
signs you need a new roof
.
At Absolute Roofing Systems and Construction, we've replaced many roofs after hurricanes in Wilmington, NC. Whether you need a
metal roof
or a
shingle roof
, we can help you repair your roof after any storm. We also provide
construction and remodeling services
and can help you rebuild your home if it was damaged after a hurricane.
If you need an estimate, don't hesitate to call us at 844-299-7699.
Our team is standing by
24/7 to provide free estimates and make sure your roof can stand up to the weather.